How to start your own Forex brokerage with ease?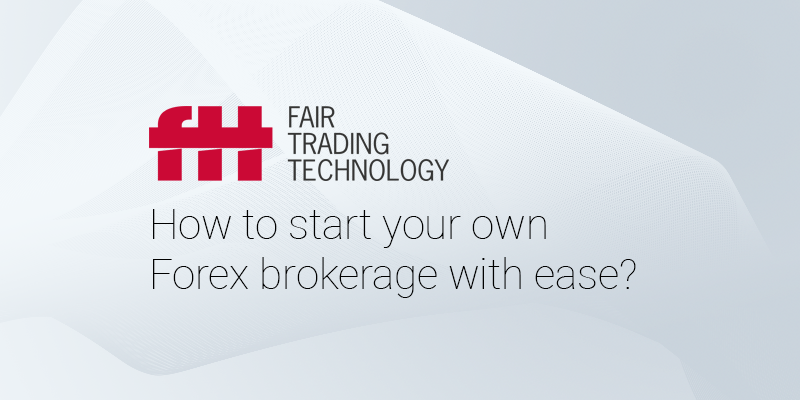 Why
are
people looking into Forex
trading
?
The foreign exchange (aka Forex, FX) market is the most liquid market in the world, with a daily turnover of more than $5 trillion per day and is unique in that sense that it is:
Continuous operation, 24 hours a day (except for weekends)

Low margins of relative profit compared to other markets of fixed income

Low barriers to entry, meaning FX brokers have comparably lower

minimum deposit requirements compared to other financial products

.
By establishing a Forex brokerage, you can tap into the opportunities of this market by offering online trading platform and tools for your clients. Clients will then pay you for this service through either a commission fee or a spread markup applied by you on currencies traded.
What you need to consider when starting your Forex brokerage
So you have made your research, defined your customer segment and finally decided to launch your business in Forex brokerage. There are then five main areas you need to consider getting your business set-up and running smoothly, namely – Forex license, website, back office, liquidity, and payment solutions.
This article will explain each criterion in detail.
1. Company incorporation and license
The first thing needed before launching your Forex brokerage and signing up clients, you need to register a company in the right jurisdiction. Once you are incorporated, you may also consider being licensed to provide the credibility expected by traders to send their funds to you as deposits for trading.
When deciding what Forex license to choose, you need to within multiple factors such as:
Geographical regions of your target audience

Initial capital requirements by the regulator

Application time for license processing

Ease of access to banking facilities

.

To start a brokerage you could consider Belize, the Cayman Islands, the British Virgin Islands (BVI) or Mauritius. You could get higher credibility with the trader if you go with more well-renowned regulatory environments such as the United Kingdom (FCA) or Cyprus (CySEC). Of course, these ones have substantially higher requirements.
2. Website
Once you have the legal part sorted out for your Forex brokerage, you need to launch a website that clients can browse to in order to learn more about your services, signup for a trading account or contact you. In short, you should at a minimum add the following on your website:
Signup forms so that clients can register with you

Contact details – phone, email, live chat

Information about funds security & your regulatory license

(if any)

Payment methods available for deposits

Basic introduction to FX & CFD trading

.
3. Brokerage CRM and Back office
Once your potential client visits the website and completes signup, the details should be sent to your back office system while the client continues to complete the onboarding or know your client (KYC) process. The KYC is a crucial step for a Forex broker to implement in order to review the legal documents and details from a user before enabling them to trade.
Having your client relationship management (CRM) and customer data easily accessible at all times is very convenient when it comes to other client-related procedures within the system. For example, when your brokerage accountant is to approve a deposit or withdrawal request, they can easily see the client approval status as well as being supported in their decisions by the system.
Therefore, to increase the efficiency of your business, you should strive to have access to as much of the functionality within this system as possible for several reasons:
Using one interface to work with

removes doubts as to where you apply certain changes

and increase trac

e

ability of actions taken

Harness the power of

big data

analysis

by having all the client & order data in a central database

By utilizing a central

h

ub as the foundation of technology, it's easy to add third-party
integrations and enhancements without limitations of certain platforms or old technology standards

Get the possibility to apply individual access for different staff members

.

With Fair Trading Technology's BrokerTools, you get all of this in one platform for Forex brokerage including seamless integration between all of its other modules: Partner Management, Trader's Room and Asset Management.
Client facing tools
Before a client signs up, they probably have already reviewed your offer and compared your trading conditions to other brokers out there. Once they've decided to go with you, you need to ensure you keep them committed by having a feature-rich and user-friendly client area.
Clients expect an easy to navigate interface, their preferred deposit methods and detailed data of their trading performance. When choosing your provider for these tools, carefully review the vendor's offers to make sure you can fulfill your client's expectations.
4.
Liquidity
Once you have your broker management platform up, website ready and trading platform & conditions configured, you need to get a price feed and access to the Electronic Communications Network (ECN) integrated in order to show pricing for trading symbols in platform and to send order requests to market should you decide not to warehouse the risk if you are a market maker broker.
When choosing your liquidity provider (LP) there are some things to consider:
Location
When your clients are trading, they expect to have low latency on order execution. To make sure that happens, you need to keep the distance between trader, platform and liquidity server as short as possible. This greatly improves the possibility for your clients to trade on relevant pricing and reduces slippage.
Number of tradable instruments
When choosing an LP, you should have a clear idea of what the clients are looking to trade on. For example, besides regular major FX pairs, you might want some local currency pairs, precious metals and cryptocurrencies added to your offering to be more competitive.
Given that an aggregation platform for multiple price feeds comes with an additional fee, it is advised to sign up with a provider that can offer as much of this in same price feed as possible. Even if you don't add all the trading assets right away, having the flexibility to expand your offering will remove some headache later.
Fees
Most of the providers offer the same basic range of instruments so, besides locations, you should also compare quotes from multiple LP's to ensure you get the tightest spreads for as low cost as possible. This will enable you to earn more on your side given that you have more buffer to apply markup on the spreads between bid & ask.
5. Payment solutions
The most important part of the Forex brokerage is to make sure you can accept deposits from your clients to fund their trading accounts.
You should locate payment service providers (PSP) that can cater your needs based on geographical region and offer the methods required by the clients. It is also strongly advised to have more than one provider so that if one is currently unavailable, you can redirect clients to another account. Since this is a crucial part of your business, you should always be on the lookout for payment providers and have a dormant account ready in case you need to activate them. Most of the PSP's don't charge you anything for opening the account but processing fees vary.
Summary

Once all these items are there and connected to each other, you are then ready to launch your brokerage. But your work doesn't end there, now you need to set up your online marketing strategy in order to reach those clients.
---