BrokerTools incorporated changes in our Asset Management (PAMM)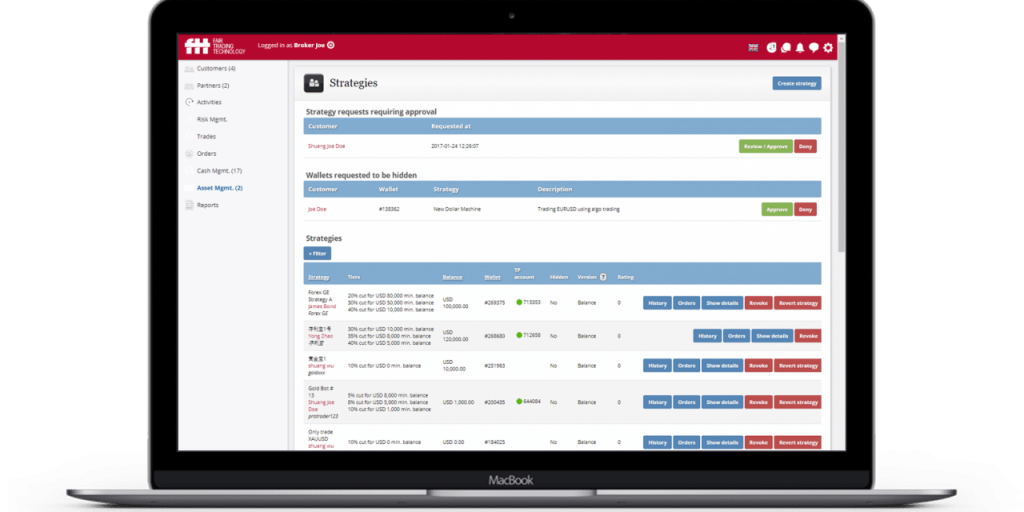 In the latest release of BrokerTools, we have implemented several enhancements in the module Asset Management (PAMM). Improvements apply to brokers, strategy owners and investors. The goal with these changes is to provide a better experience, more detailed calculations and a more professional approach. To learn more, check out the list below for detailed information.
1. For brokers
Change investment wallet currency
A broker is now able to change the PAMM investment wallet currency if the wallet has not been used, i.e. no transactions, investments, etc. This can be useful if the client had chosen the wrong currency upon signup, as an example.
Dynamic number of tiers
A broker will be able to specify the number of tiers that a strategy owner can use as a broker setting.
Add support to "Create investment account" on the customer signup page
A broker can now create specific customer signup pages for investors where customers can choose to instantly create an investor account and the account currency when they register.
2. For strategy owners
Change PAMM Available for payout
A strategy owner's available payout amount under "My strategies" is currently based on the wallet balance minus investor funds and collateral. It is now changed to equity-based calculation, meaning the available payout amount now equals to the owner's investment balance. This change ensures a fairer representation of how much is available on the strategy owner's share.
PAMM notification on a withdrawal request
Now strategy owners will receive an instant email notification as soon as a withdrawal request of funds is issued by an investor. The same applies when the investor cancels the withdrawal request.
New terms and conditions (T&C) format for a new strategy owners
When a customer clicks on "Make me strategy owner" under Investments, a new T&C form will appear. The clients have the option to use a digital signature and the file is then saved as a PDF under user's files.
P/L report of PAMM investors
A strategy owner can view a report of Investors PnL per month for the last 12 months. This is a part of the reporting needed for MiFID II.
Add strategy profit share to the consolidated fee schedule
Add two rows to Consolidated fee schedule for investors to see the amount paid to a strategy owner (managers profit share). This is in line with MiFID II requirements.
3. For investors
New T&C format and POA for investor
When a PAMM investor clicks on "Invest in a strategy", the old T&C checkbox is now switched to a digital signature section. When investors sign the agreement, it will then be saved as a PDF file. This only appears the first time when a client invests in a strategy. For each new investment into a new strategy, the investor needs to sign a secondary Power of Attorney (POA) which will also be saved as a PDF. The POA contains the strategy name, strategy owner name/company name.
For more information and how you can apply those changes on your BrokerTools Asset Management, contact your client service team.
---