FTT and IDWise Partner to Deliver Cutting-Edge Solutions for the Fintech Industry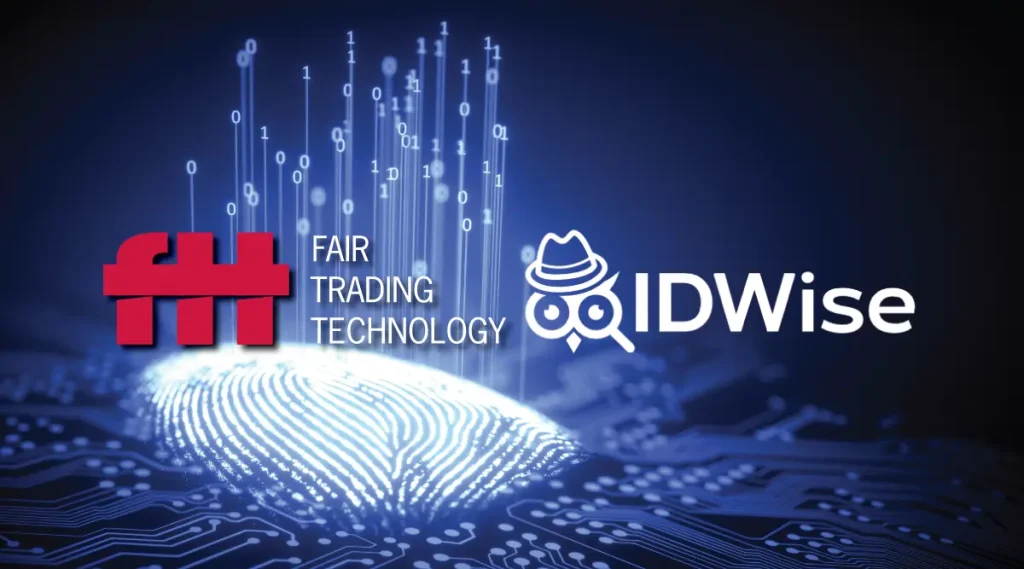 Fair Trading Technology (FTT), a growing provider of multi-asset trading technology solutions, has announced a strategic partnership with IDWise, a global leader in delivering AI-powered Identity Verification (ID&V) and electronic know-your-customer (e-KYC) solutions with specialist expertise in complexity and high-risk markets. The partnership will enable FTT to offer its clients access to IDWise's proprietary next-gen AI-powered customer verification and compliance solutions seamlessly within minutes.
The fintech industry has seen a remarkable expansion in recent years, with a growing number of players entering the market and offering consumers a wide range of financial services. However, given the increasing complexity of financial transactions, regulatory compliance has become a top priority for fintech companies to ensure that they are operating within the legal framework of their respective jurisdictions.
Compliance requirements such as Anti-Money Laundering (AML) and Know Your Customer (KYC) have made it challenging for fintech companies to onboard new customers quickly while meeting all the necessary regulatory standards.
Organizations are under pressure to move more high-risk interactions online. However, the need to establish trust in the user's real-world identity must be balanced with expectations for minimal friction in the user experience and increased automation. Striking the delicate balance between the competing demands of fraud prevention, regulatory compliance, and user experience in the highly competitive and ever evolving fintech space on a global scale is far from trivial and high on the priority of both risk and compliance professionals and business leadership.
By partnering with IDWise, FTT will be able to offer its clients fully automated and scalable ID&V and e-KYC solutions that enable them to meet all the necessary regulatory requirements while streamlining their customer onboarding process and establishing trust with good users more effectively at scale.
IDWise's AI-powered intelligent "bank-grade" solution, face match and certified liveness detection, along with comprehensive AML/PEP/Sanctions screening, are all seamlessly integrated within minutes. These features, in addition to IDWise's unique adaptability to regional requirements in high complexity and high-risk markets, enable FTT's diverse customers with varied use cases across different markets globally to provide their ever more demanding users with a next-gen frictionless experience, save costs through automation while adhering to increasingly stringent global and regional e-KYC requirements, all at the same time.
"We are excited about our partnership with IDWise," said Jonas Eldborn, CEO of Fair Trading Technology. "This strategic collaboration will allow us to offer our clients the latest in customer verification and compliance solutions. As we continue to expand our product offering, this partnership will help us to better meet the needs of our clients in the ever-evolving fintech market."
The partnership between FTT and IDWise will particularly benefit customers in developing countries, where regulatory compliance and customer identity verification are often more challenging due to a lack of established procedures and infrastructure. Built by pioneers in the e-KYC space, IDWise has proven expertise and a track record in adapting to complexities present in developing countries, enabling fintech companies operating in these countries to comply with local regulations and onboard customers more quickly and efficiently.
"We are excited to partner with Fair Trading Technology," said Baha Arab, Co-Founder and CEO of IDWise. "Our AI-powered proprietary ID&V and e-KYC solutions will complement FTT's innovative multi-asset trading technology, enabling their clients to meet regulatory requirements and establish trust with good customers more effectively. Our partnership with FTT also opens up new opportunities for us to expand our global reach and offer our solutions to a wider range of financial institutions in need of a next-gen AI-powered approach to ID&V and e-KYC to strike the delicate balance between fraud prevention, regulatory compliance and user experience in a cost-effective manner at scale."
The partnership between Fair Trading Technology and IDWise is a powerful combination, and one that is sure to deliver significant value to companies in the fintech sector. By partnering with IDWise, FTT is demonstrating its commitment to providing innovative solutions that enable fintech firms to meet regulatory compliance standards while delivering the best possible user experience for their customers. This partnership is yet another step in FTT's and IDWise's mission to help its clients stay ahead of the curve in this dynamic and growing market.
About Fair Trading Technology
Fair Trading Technology (FTT) is a reputable provider of trading technology solutions that cater to the fintech industry. By offering modular, complete solutions for financial brokers, FTT wants to revolutionize the whole industry. Our BrokerTools, a web-based modular platform, already serves financial experts, investors, and money managers across the globe by giving them access to an extensive range of information and tools from the financial markets. FTT solutions are deployed in highly resilient data centers in prime locations around the world, utilizing the latest hardware and technologies, with the best possible redundancy, delivered support, and enhanced customer experience. Our solutions make trading more accessible, reliable, and efficient, by providing top-notch products to businesses that aim to reach the next level. FTT will not stop here, on the contrary, we will raise the bar to force others to do the same. In the end, that really is our goal: to simply raise the bar. To create a new standard in the fintech industry.
Founded in Jan 2021 by pioneers in the e-KYC space with a combined 50 years of domain experience and headquartered in the UK with 40+ "IDWisers" working in 5 countries, IDWise is an Identity Verification and e-KYC B2B SaaS regtech venture, with specialist expertise in serving high complexity and high-risk markets globally through its proprietary AI-powered ID&V and e-KYC suite of products. IDWise serves tech scaleups and large Enterprises in multiple industry verticals across there continents, including financial services, telco, insurance, crypto, transport, logistics and e-commerce.
For more information on IDWise's products and solutions, please visit IDWise's website: www.idwise.com
---